CLERK 2 Product Information
CLERK (Computerized Law Enforcement Record Keeping) version 2 offers your department a balance between features and cost of ownership. Terrier Technologies backs CLERK with top-quality technical support, and has a clear vision for future product enhancements.
In a nutshell, CLERK offers your department ease of use and all the features you'd expect from a $10,000 package, for $2,500.
Key features: Integrated incident report writing; Computer Aided Dispatch (CAD); Runs over a network using SQL database; Digital image archival; Parking permit/fine management; Personnel management; NIBRS-ready; Clery Act reporting.
Detailed features & benefits | Screenshots | Downloads | CLERK 2 Q&A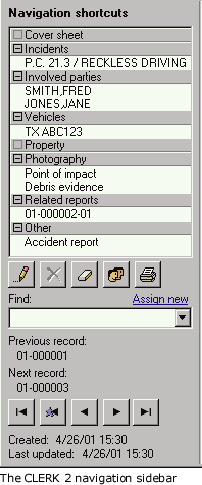 Quite simply, CLERK 2 allows you to have a superior records management system without compromising your department's fiscal policy. That's why the motto for CLERK 2 is "have it all".
Ease of use


CLERK 2's interface makes it easy for officers to enter data, as well as locate previously saved data. For example, the CLERK sidebar (shown right) gives officers a quick summary of a case report and lets them quickly move to a particular name or property item.

Features

Fully networked: Many users can connect simultaneously
Integrated CAD: Computer-aided dispatch with support for multiple CAD stations
Digital photography, NIBRS reporting, and much more.

Cost effectiveness


Computerize your department for $2,500, including 12 months of upgrades and toll-free support. CLERK does not have any hidden software charges or annual maintenance fees. (See Purchasing for detailed pricing information)
Also see our features and benefits page for a more in-depth look at CLERK 2.