Data entry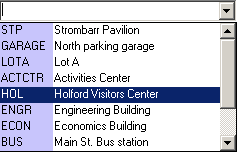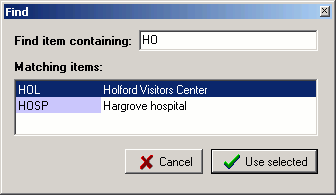 To extract meaningful statistics from CLERK, it is important that locations, offenses, CAD events etc. be entered in a uniform way. Conventionally, software packages use "data entry codes" for this purpose.
However, codes are difficult to learn, especially for beginners. CLERK overcomes this by using a dual system.
Consider the location examples above. An expert user might know that the "Holford Visitors Center" code is HOL. They can enter the code directly into the field by typing "HOL". A beginner, on the other hand, might have no idea what the code is. By clicking on the down-facing arrow, the user sees a list of all codes and corresponding locations, and they can simply choose "Holford Visitors Center" from the list (above left).
What happens if there are hundreds of codes? Type a few letters (e.g. Ho) of the location, and press Ctrl-F. CLERK displays a list of locations (above right).