Data entry in the CAD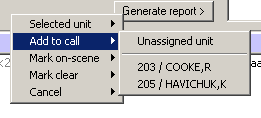 Most tasks in the CAD can be accomplished in a number of ways. For example, one way to add a unit to an existing call is to right-click in the main CAD window and use popup menus as shown above. Another alternative is to use a pull-down menu in the responding officers section (below) or in the active calls window.

More experienced users can type directly into the "cells". The example below shows how a dispatcher can simply type a unit number ("-" means unassigned) to add the unit to the call.


QuickCAD (not shown here) does not involve any use of the mouse, and is the fastest means of data entry.