Call prioritization in the CAD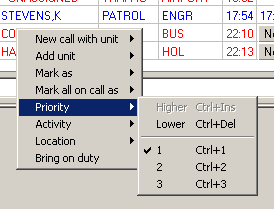 When there are many active calls, prioritization can be important. CLERK allows you to color-code calls by priority, and change priorities while a call is in progress. The number of priority levels and colors used may be configured by your department.
This screenshot shows how the priority of a selected call may be changed using popup menus. The same effect can be achieved by using shortcut keys (e.g. Ctrl-1 to make the call priority 1).